Top Escort For Couples
People hire companions for a number of different reasons. Some people hire companions for dinner dates, others for work events and functions, others for balls and parties, some the girlfriend experience and others, such as couples also like to hire escorts either to add some spark back into their relationship by adding another woman to their extracurricular activities, or perhaps just because they enjoy having somebody else there.
Either way, it's not just single men who book escorts, many couples seek these services for themselves and at AJ's we aim to cater to everyone's needs and fantasies which is why we've made sure we have the hottest escorts available for couples to book. If you are a couple and you're considering adding another woman to your closed-door life, then we recommend our top pick for this week:
Kelly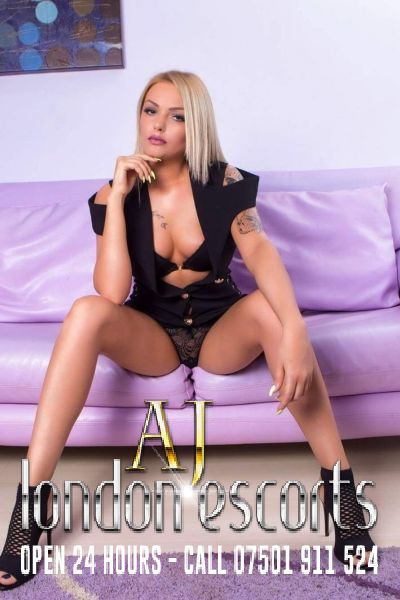 Kelly is one of our dream girls and she is more than stunning. This beautiful blonde bombshell is a pleaser and aims to satisfy all her customers to the fullest. A look through her photo gallery will show you just how confident Kelly is. She poses like she knows shes desired and loves rocking her sexiest lingerie for you. Favouring the colours red and black, you can bet on kelly to give you a great time. Kelly's first picture shows her confidently spreading her legs with her eyes seductively piercing anyone who looks at this picture.
Kelly is 25 years young and this young Italian beauty is more than the perfect companion. Kelly is just the type of woman to introduce to your adventures. She's playful, confident, giving and a complete professional. Her dress size is 8 and her hair is a lovely long blonde. Her soft brown eyes can make anyone feel like they're in love and as a couple, the only thing this bi-sexual Italian goddess will have you worry about is who's Kelly giving more attention to.
Kelly is the perfect companion outside the bedroom as well as she loves to be out in the city or partying the night away. Kelly is a fashion lover and designer clothes are her thing, so you can be sure whenever you book Kelly you're going to be seeing her in some incredible outfits and lingerie all to please you. Kelly enjoys shopping trips in Knightsbridge and the infamous Bond Street is one of her favourite places to shop. Many of Kelly's clients love taking her on shopping trips and spoiling her with the best lingerie, dresses and high heels and Kelly is more than happy to wear any of her stuff for her clients.
So there we have it, make sure to book Kelly for as long as you need too. Kelly is available from a shockingly low starting price of £100 per hour and it's clear to see from her profile, she's more than worth it. Kelly is beautiful, blonde, petite, giving, caring and an absolute delight to be around. Call us to book Kelly or fill out our online form.